Lehai Enterprise Co., Ltd.--Automated laser welding equipment, automated cutting and welding equipment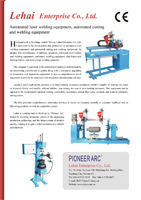 Headquartered in Taichung, central Taiwan, Lehai Enterprise Co., Ltd. is dedicated to the development and production of automated laser welding equipment and automated cutting and welding equipment. Its product line encompasses, in addition, automatic end-metal-sheet cutting and welding equipment, automatic welding equipment, dual/triple-axis bending rollers, and solar-energy welding apparatus.
The company's reputation in the international market is underpinned by an unwavering commitment to quality along with a continuous upgrading of production and inspection equipment. It uses a comprehensive set of equipment to provide its customers with integrated manufacturing services.
Among Lehai's high-profile products is its laser welding automated equipment, which is capable of welding two types of materials firmly and durably without bubbles, thus cutting the cost of post-welding treatment. This equipment can be applied in the metal/plastic-injection tooling, automobile, machinery, optical fiber cable, medical, and aviation industries, among others.
The firm provides comprehensive after-sales services. It insists on listening carefully to customer feedback and on delivering products on-time at competitive prices.
Lehai is working hard to build up its "Pioneer Arc" brand by devoting strenuous efforts to the upgrading production technology and the improvement of product quality, helping it to gain a solid reputation as a reliable manufacturer.